Refuge in Literacy UK Patron:

Stephen Holland,
Comics Laureate 2021-2023
Stephen is the current Comics Laureate and co-owner, co-manager and sole curator of Page 45, the European-style comic shop in Nottingham which he co-created in 1994 with Mark Simpson (1968-2005) in order to promote quality and diversity in comics.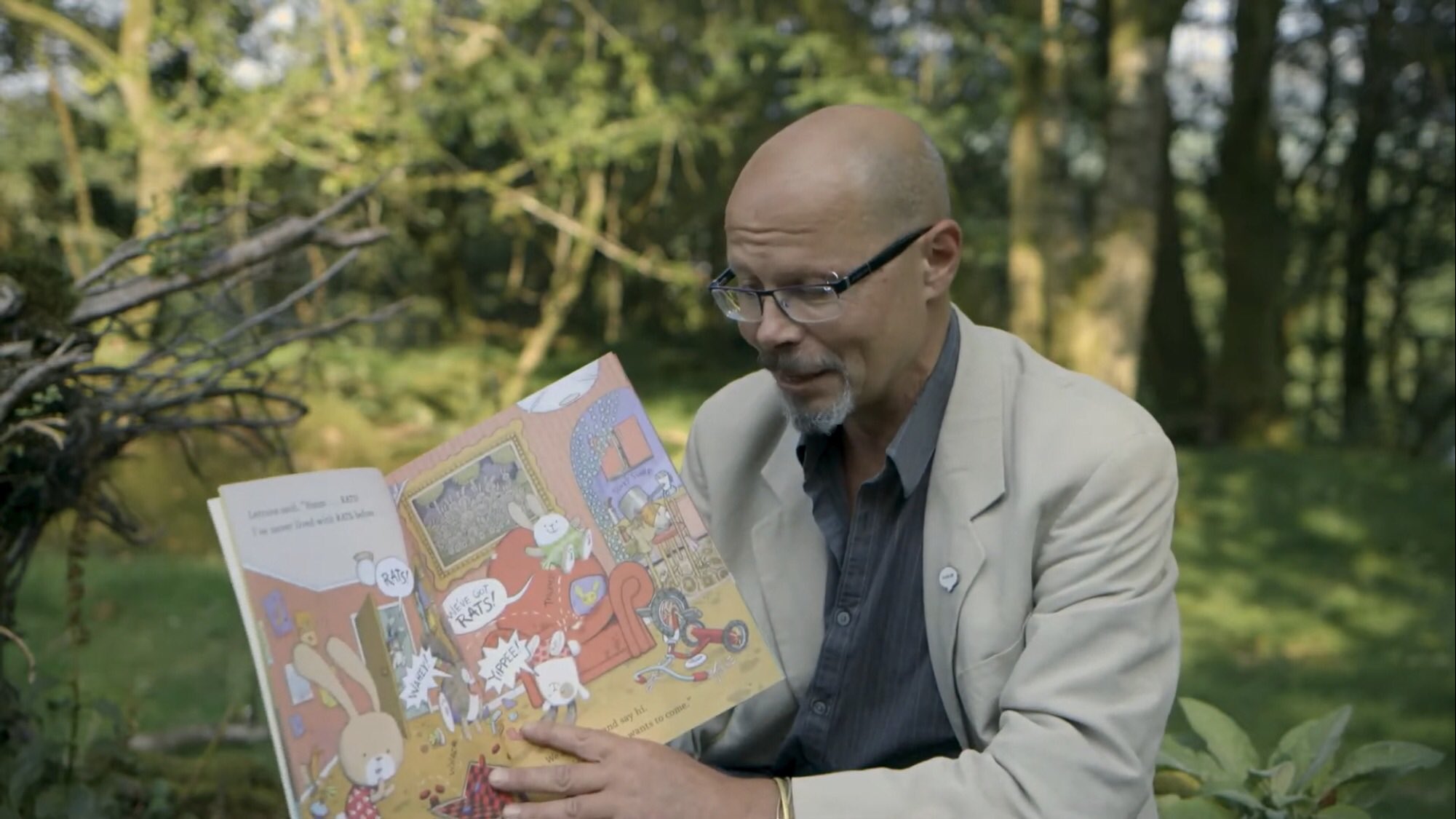 When young, Stephen was a very reluctant reader to which his mum successfully applied the then-inspired solution of comics.

Proof of the pudding: he now has a degree in English Literature and History of Art, which is certainly pretty handy when preaching and teaching comics.
Being a reluctant reader is increasingly common, particularly prevalent among boys.
Along with its hundreds of Young Readers and Young Adult graphic novels, Page 45 recommends The Phoenix Weekly so that kids look forward to reading on a regular basis.
Aged 18, Stephen's first full-time job was the in-house artist for Ralawise Ltd, designing screen-printed t-shirts and tea towels for the likes of Little-Known-By-The-Sea and Chester Zoo.
While studying, he worked in the art book department of Dillons (later absorbed into Waterstones).
He has also been a barman, free-lance artist and journalist.
Over the last 30 years he has written over 25,000 comics and graphic novel reviews, including those on The Comics Laureate Recommended Reading List about which Neil Gaiman wrote in 2022:
"These are great! Page 45 has been the best graphic novel shop in the UK (arguably in the English-speaking world) for decades, so seeing Steve Holland evangelise as Comics Laureate is a delight." — Neil Gaiman, 2022
Stephen joined the comics industry on 20 th August 1990, working alongside Mark Simpson for a retail chain which had a concession in Nottingham's Virgin Megastore.
For four years they figured out what was wrong with the British comicbook industry –suffocated by being complicity in thrall to American superhero corporations – then set about putting it right.
On 17 th October 1994 they opened Page 45 in Nottingham, originally championing independent British comics by the likes of Nabiel Kanan, Andi Watson, Posy Simmonds, Eddie Campbell, Bryan Talbot, Jeremy Dennis, Tom Gauld, Simone Lia and Gary Spencer Millidge, and spotlighting graphic novels full of fiercely thought-out and individualistic autobiography, history, travel, crime, comedy, science-fiction, fantasy, horror, socio-politics and contemporary, everyday fiction.
Page 45 won Nottingham's Best Independent Business / Retailer for two successive years in 2012 and 2013, the only ever Diamond Comics Award for Best British Retailer in 2004; and in 2005 Neil Gaiman declared Page 45 "the best graphic novel shop I have ever been to".
Stephen has taught comics as an inspirational medium in full-day five-lesson sessions at the likes of Abraham Moss Community School in North Manchester, to groups of librarians all round the country, at The Lakes International Comic Arts Festival (often) and The Prague Comics Festival in 2022.
After being asked to stay on as Comics Laureate for an extended period, Stephen is currently working on his follow-up to The Comics Laureate Recommended Reading List, which will be the massive, more data-driven Comics Laureate Recommended Graphic Novels for School Library Services.
Stephen's favourite prose books are 'Sapiens' and '21 Lessons For The 21 st Century' both by Yuval Noah Harari.
"Essentially who we are and how we came to be. Context, as ever, is everything."
His other all-time heroes are Rosa Parks and Congressman John Lewis for whose MARCH graphic novel trilogy he wrote three extensive and impassioned reviews.
Oh, and David Attenborough, obviously.
Stephen L. Holland a Patron of the Lakes International Comic Art Festival and Refuge In Literacy UK.